Get Started with MeshGuard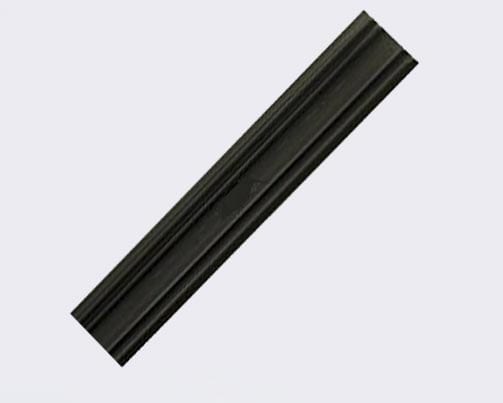 MeshGuard Base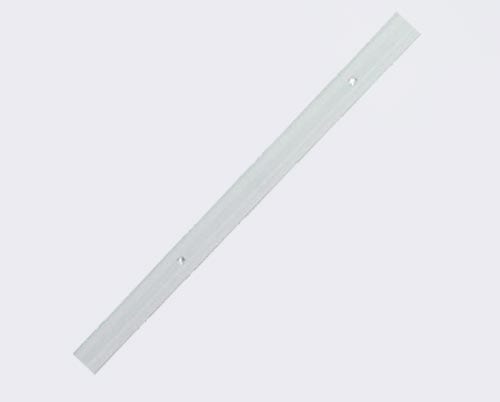 MeshGuard Metal Strip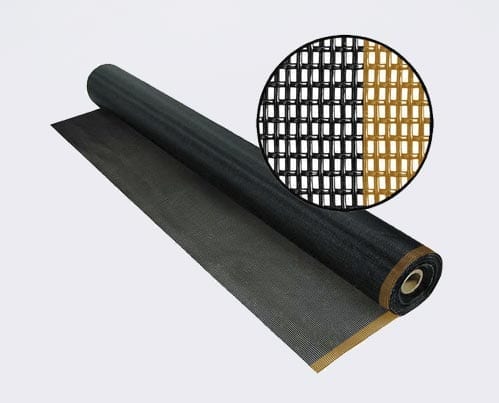 MeshGuard Screen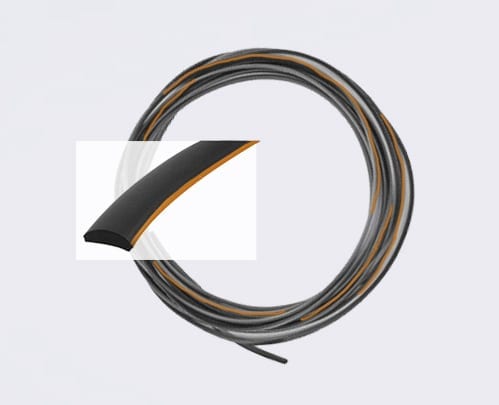 MeshGuard Flat Spline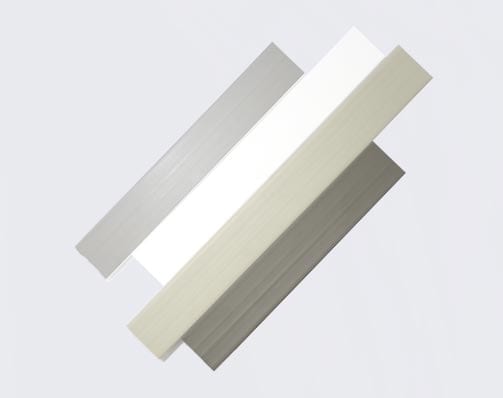 Screen Tight Cap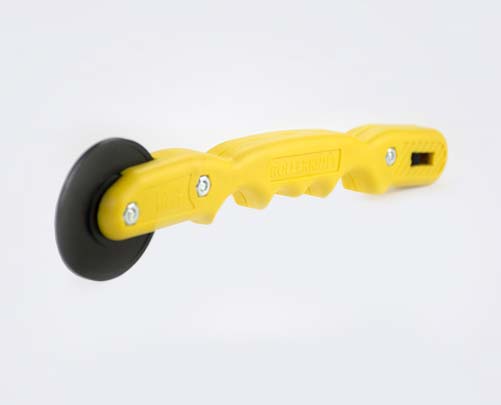 RollerKnife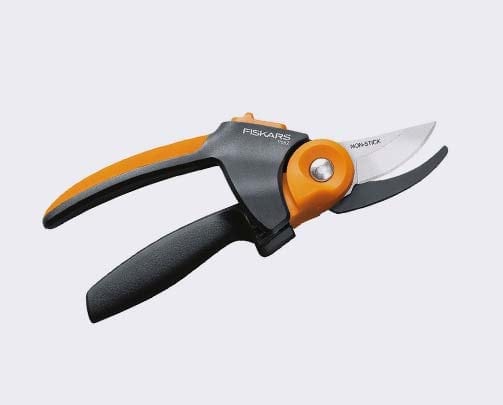 Snips or Shears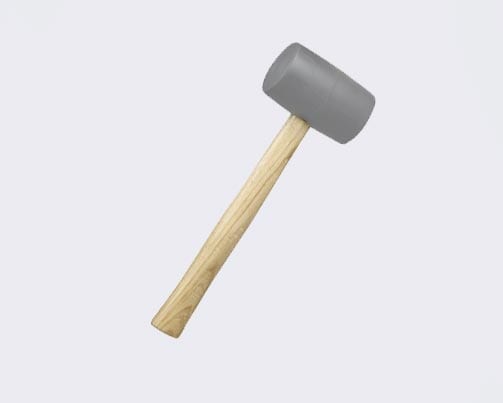 Rubber Mallet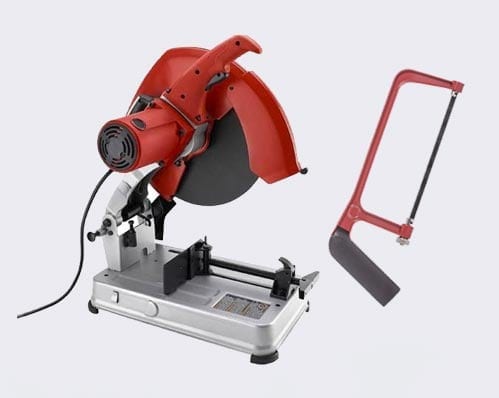 Chop Saw or Handsaw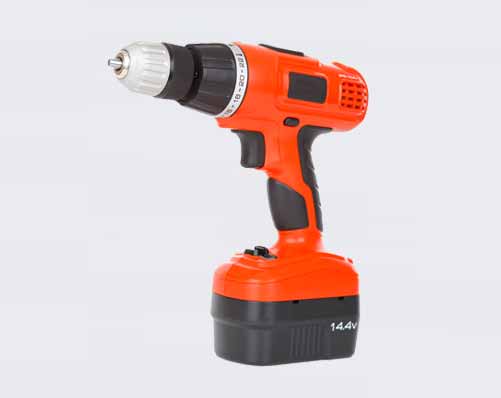 Power Drill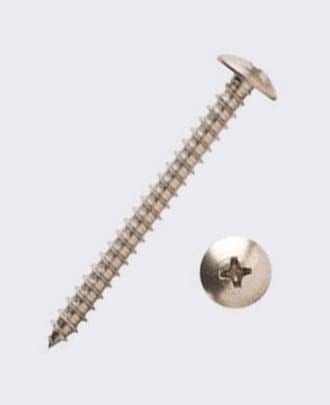 #6 x 1 ¼" SS Truss
Pan Head Screws
MeshGuard is a system of components. In order to be code-compliant, the base, metal strip, screen and spline cannot be substituted with any other products.
Code-Compliant Guardrail screen
How to Install MeshGuard
MeshGuard is the first guardrail infill screen system approved by building codes. Installation is easy and takes a fraction of the time over installing pickets. The first step is to measure and plan your porch with our worksheet and MeshGuard screen porch calculator. In the video below, the installation process begins at about 1:30.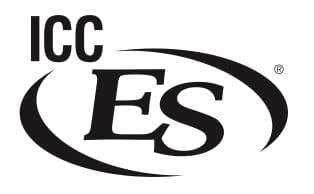 Evaluated, Tested and Approved
The MeshGuard system has been confirmed by the ICC Evaluation Service (ICC-ES) that it is satisfactory to resist loads specified in Section 1607.8.1.2 of the 2015 and 2012 IBC (Section 1607.7.1.2 of the 2009 IBC) and Table R301.5 of the IRC, when installed at the maximum clear span distance of 72 inches (6-ft, 1828.8 mm) between the posts.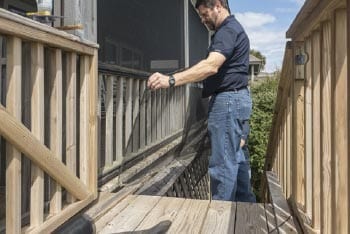 MeshGuard can be installed on the exterior of an existing guardrail system. If you need to do so, start with removing the screens.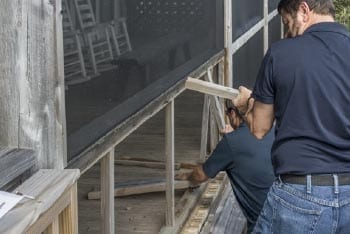 If you currently have pickets or balusters around the porch, you can also remove these from your infill area prior to beginning installation for a full, unobstructed porch view.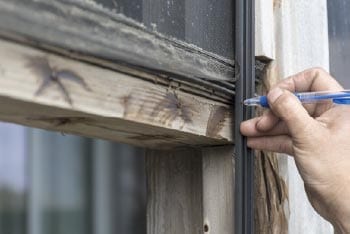 To begin installing the MeshGuard railing system, first measure the outer perimeter areas and inner horizontal for precise cuts on the framework pieces.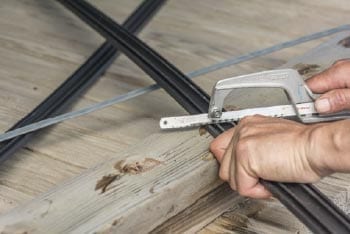 Next, you will need to cut the framework pieces accordingly for easy installation.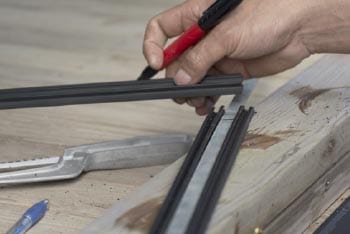 Once the framework pieces are altered to the proper size, you will also need to repeat this step for the galvanized steel pieces.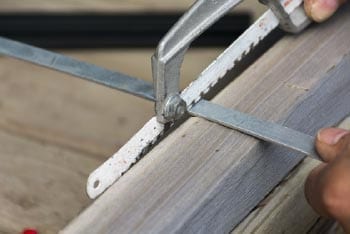 Be sure to cut away the correct amount for the galvanized steel to fit exactly inside the framework. This provides added strength and stability to the MeshGuard screening system.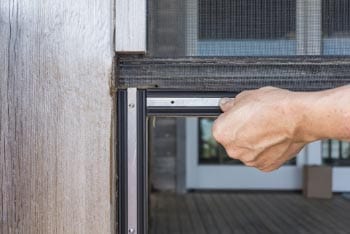 Once all cuts have been made, slide the galvanized steel inside the MeshGuard base and begin laying out the framework around the perimeter.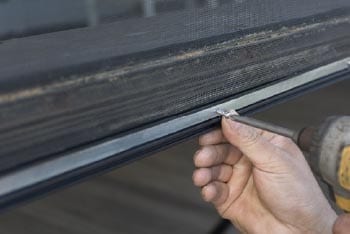 Once the framework is laid out on the outside perimeter of the porch, then drill the fasteners to attach directly to the porch. If needed, add fasteners at each end of the base if there is not one within 2 inches.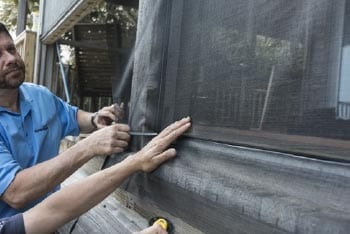 After the perimeter has been secured to the porch, take the MeshGuard screen material and spread across the entire screening area.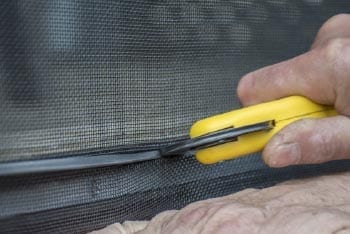 To roll screen into place, use the MeshGuard flat spline and a Screen Tight Rollerknife to begin the process. The rounded, orange area of the spline will go down into the base.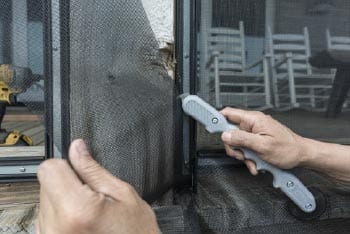 If rolled correctly, the orange portion of spline will not be visible. Next, cut away any excess screen by using the hook end of the Rollerknife or a boxcutting tool.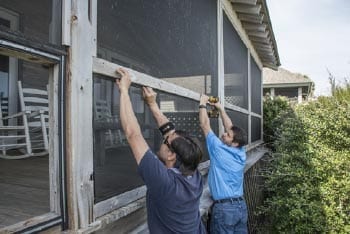 Lastly, add your desired cap or to cover and complete the installation.
Ready for a Picket-Free Porch?
Calculate your project using the MeshGuard calculator or contact us today.