Our Products

Screen Tight
You and your family can now enjoy all of the lifestyle advantages of an attractive, open-air screen porch with a perfect, no-sag fit that can be easily installed in hours...
[
Learn More
]

FAST Track
100% Hidden Fasteners for a clean & professional look, Fast Track is Screen Tights' innovative 2 piece screening system. With unlimited screening configurations possible...
[
Learn More
]

MINI Track
This ULTRA low profile screening system with completely hidden fasteners is perfect for higher elevations and various second story applications...
[
Learn More
]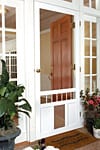 Screen Doors
creen Tight™ is proud to offer several screen door options to suit any style. Weather it be our Solid Vinyl, Wood or Pressure Treated Screen Doors they all help...
[
Learn More
]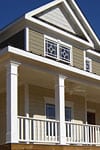 Wrap N' Snap Column Wrap
Wrap N' Snap Column Wraps turn a treated post into a finished column that will last a life-time in just minutes. Our patented "snap" design allows for one-person installation...
[
Learn More
]