Screen Doors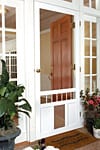 Solid Vinyl Screen Doors
Solid Vinyl Screen Doors from Screen Tight® offer more than just fresh air. It's an investment in your home. The beauty of several unique designs with the classic look of wood, PLUS the durability of maintenance free, patented solid foam cellular vinyl. Enhance your exterior entry way with a door that won't rot or fade, is easy to repair and never needs painting... The screen door that's a breeze!
[
Learn More
]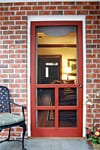 Wood Screen Doors
Elaborate or traditional, Screen Tight® offers a wide selection of wood screen doors. These doors come with removable screens for easy painting and repairs. These doors are trimable and have our exclusive "We Will Paint For YOU!" option, choosing from one of our 5 finishes that are available.
[
Learn More
]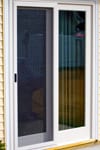 Master Piece Sliding Screen Door
The Screen Tight® MasterPiece™ Sliding Patio Screen Door is made exclusively to fit the MasterPiece™ Gliding Patio Door and is the perfect companion to complete your patio door project.
[
Learn More
]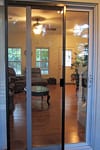 Sliding Screen Doors
The Screen Tight® sliding screen doors are designed to fit most patio doors and ensure easy installation. All workmanship and materials are warrantied on our doors.
[
Learn More
]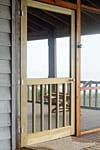 Pressure Treated Wood Screen Doors
Screen Tight's Pressure Treated Wood Screen Doors are made with an Eco-Friendly treated wood that is odorless, clean to the touch and is non-arsenic based. This treatment is the most effective CAA treated wood, which helps protect the door against termites and fungal decay while reducing demands on forest resources. With removable screens for easy painting and repairs, there is not an easier treated wood screen door to work with.
[
Learn More
]

Accessories
We offer standard hardware packages (sold separately) containing door handle(s) and three door surface mount hinges in various finishes to match any style.
[
Learn More
]