How to Install MasterPiece™ Sliding Screen Door from Screen Tight®
MasterPiece™ Sliding Screen Door Installation Tips
Materials Needed

1. Tape Measure
2. Pencil
3. #2 Phillips Screwdriver
4. Flat Tool or Putty Knife
5. 1/16" Drill Bit
6. Drill
Installation Steps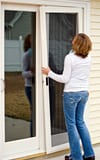 STEP 1:
Insert screen door into top channel of the MasterPiece™ main door. Then fit wheels to ride on top of bottom MasterPiece™ Rail. Note: For doors that fit snug, gently flex sides of door frame while using your finngers or flat tool to position wheels onto rail.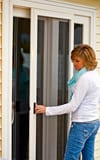 STEP 2:
Slide door to check for proper operation. If door doesn't glide smoothly, recheck wheels to make sure they are riding on top of bottom rail.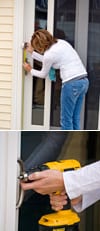 STEP 3:
For screen door to latch, install striker, which is included. Measure and mark the height of the screen door latch. Transfer the latch height to main door frame. Position the striker on main door frame at desired height, hen mark for two screw holes. Drill 1/16" pilot hole in main door frame. Fasten striker to main frame using he included screws. Note: Striker height can be adjusted up and down for handle to latch.