How to Install Mini Track Porch Screening System®
MINI Track Installation Tips
Tools & Other Materials Needed
1. Chop Saw
2. Rollerknife™
3. Spline
4. Screwdriver/Drill
5. Rubber Mallet
6. Fasteners
7. Fiberglass Screen

Installation Steps

Attach SCREW/CLIPS to Porch Frame

Measure, pre-mark, and pre-drill screw/clip locations on the frame with a level ruler or string to keep the screw/clips aligned at desired location on the frame for proper channel installation. Place screw/clips 2" from the corners and every 8" - 10" evenly spaced apart. Do not overtighten. (Do not exceed a maximum of 25 square feet per screened in area.)


Attach MINItrack™ CHANNEL to SCREW/CLIPS

Now MINItrack Channel pieces should be cut to desired lengths. Install the left & right channel vertical's by just "snapping" them over clips directly attached to the frame using a rubber mallet.
Next, install both the top and bottom MINItrack channel horizontal's (See
A Diagrams
for details)

Roll SCREEN into MINItrack™ CHANNEL

Now using the spline, Rollerknife™ Screening Tool & screen mesh material, simply roll the spline into the groove of the MINItrack channel to hold in the fabric. Starting with the top, working your way to the sides and bottom of each section to be screened.

Simply trim off the excess screen mesh and you're done!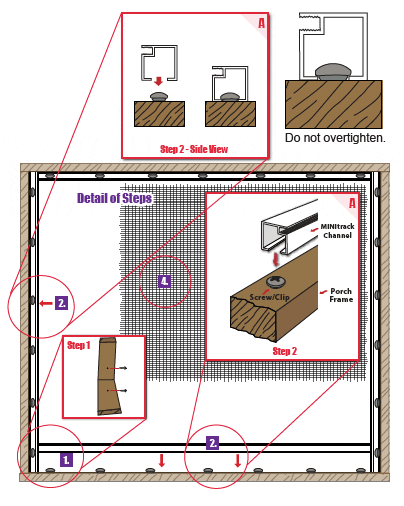 Download Documents
» MINI Track Installation PDF