Measure First
Prior to purchasing your materials, measure your vertical and horizontal support rails. Most are constructed with either 2 x 4 or 4 x 4 boards. Base strips are available in two corresponding widths: 1½ inches and 3½ inches. Also be sure to measure the distance between the vertical supports. Screens are available in widths ranging from 36 to 72 inches. Plan to allow for an excess of at least 6 inches on all four sides, which will be trimmed after the screen is secured into the base strips. For example, if your average width is 60 inches, you will need to purchase 72-inch-wide screen material.
Getting Started
Before you begin, remove all the old screens. Next, pressure wash, scrape, sand, prime, and paint the existing railing, supports, and flooring as needed. Remember to remove all hardware from doors prior to priming and painting. Allow paint to dry completely before starting the installation process. (Tip: Remove any light fixtures that may get in the way when installing the base strips and screens.)
Lowe's Shopping List
Screening Materials
Other
Tools

º

1½-inch (8-foot-long) base strips (Screen Tight, black #21532*

º

five-bar vinyl screen door (36-inch, Screen Tight, white, #147344)*

º º

tape measure
cordless screwdriver

º

3½-inch (8-foot-long) base strips (Screen Tight, black, #21533)*

º

2 outdoor light fixtures (Portfolio, Rustic Brown Finish, #24225)

º

multipurpose snips (Prosnip, #110469)

º

1½-inch (8-foot-long) caps (Screen Tight, white)*

º

1 (52-inch) all-weather ceiling fan (Harbor Breeze, white, #74158)

º

RollerKnife (Screen Tight, #52369)*

º

3½-inch (8-foot-long) caps (Screen Tight, white #21535)*

º

side table (Brookfield, #172442)

º
º


utility knife
rubber mallet (optional, #52651)

º

72-inch (100)-foot-long) fiberglass Insect screening (Phifer Wire Products, Charcoal, #51182)

º

doorknob (Screen Tight, white, #147345)

º

0.175-inch (300-foot long screen spine (Screen Tight, #21984)*
Skill Level: Intermediate
Rough cost estimate: $500; Paint $150, Screening Materials $275, Screen Door $75
Rough time estimate: 2 weekends
*Available through special order in some stores.
The Finishing Touches
As you can see, screens transformed this porch into a more inviting living space. Then all it took was a few additional improvements to make it a comfortable room in which to lounge and entertain.
>> An all-weather outdoor ceiling fan (#74158) was installed to cool occupants on hot summer days.
>> The existing light fixtures were not only outdated, but they also did not provide ample light. Two outdoor light fixtures in a rustic brown finish proved to be a good solution.
>> A vinyl five-bar screen door by Screen Tight makes entering the porch a pleasure. A white door-hardware set and hinges complete the finishing touches.
Kacy Carroll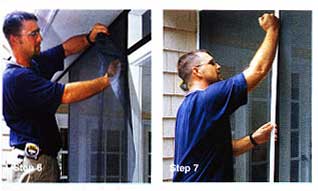 Download Documents
» Download printable pdf file.