Customer Testimonials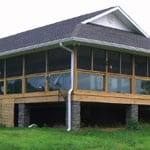 MINI Track Installation
"It is unbelievable how easy and fast it was."
- Steve Donnelly
Hartsville, TN- Contractor Steve Donnelly needed to screen a porch at his sister's newly constructed one story house in Hartsville, TN near Nashville. The 1,920 square foot house sits on Old Hickory Lake and has a 1,128 square foot porch that extends the length of the home. The 94 by 12 foot porch sits 4 to 5 feet off the ground on one side and 3 to 4 feet on the other.
[
Read More
]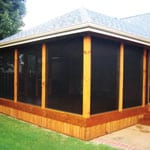 MINI Track Installation
"People always tell me how great it looks and we couldn't be happier."
- Brett Keiper
MT. JULIET, TN- For years, Nashville-area homeowner Brett Keiper wanted to transform his awning-covered patio into a screened-in porch. The awning was twisted and warped, didn't look good, and needed to be replaced.
[
Read More
]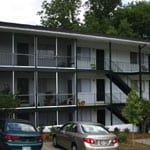 Fast Track Installation
"We completed screened in the six porches in one day versus the weeks it would have taken..."
- Kole Parks
An apartment complex manager in Georgia wanted to improve the appearance of a building he owned overlooking a downtown area. The 30-year-old building was in a desirable area, in good condition on the inside but lacked visual appeal and needed to be freshened up on the outside.
[
Read More
]
Click here for Screen Tight customer testimonials.